How, Who, Where, What … RENEWABLES for MINING Perth Workshop?
WHAT NEWS?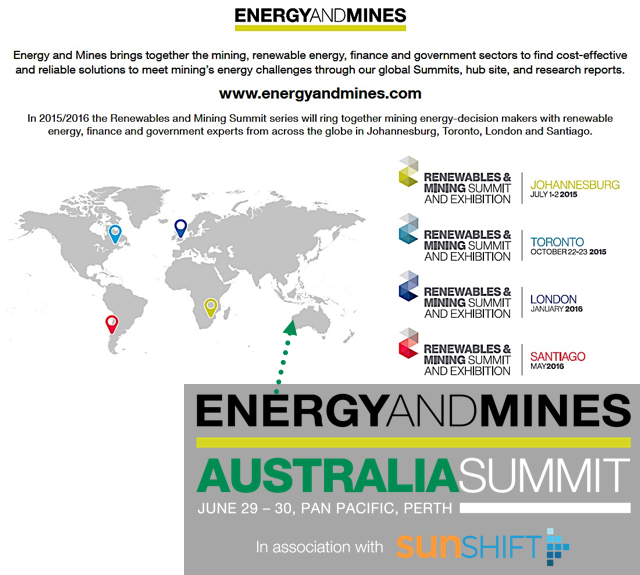 Presentation: The Energy & Mines Workshop arrives to Australia
During 2015 and 2016 Energy and Mines organized 6 pre-summit workshops in North and South America, Africa and Europe. June 28th 2017 this workshop will arrive to Perth, Australia.
Workshop Reception desk Toronto 2016
BACKGROUND EXPERIENCE
 Toronto 2015 & 2016 (Canada) Workshops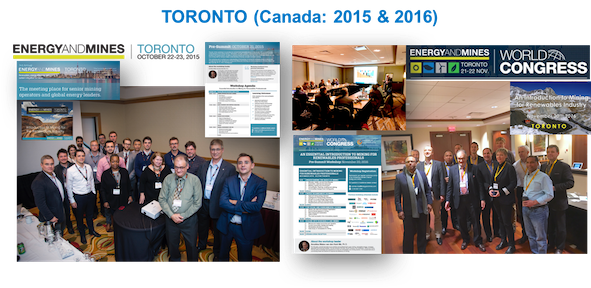 Santiago 2015 & 2016 (Chile) Workshops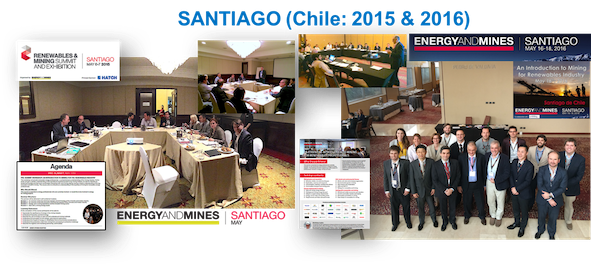 Johannesburg (South Africa) and London (UK) Workshops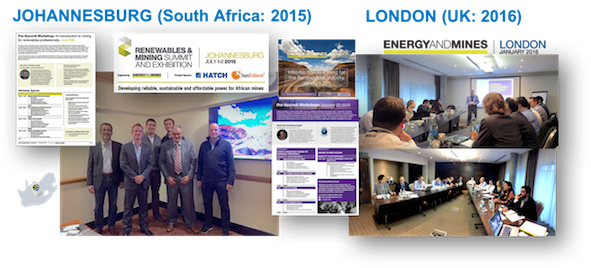 WHY?
Who & Why should attend, target, goals
Link to Why you should attend to the Perth Workshop on RENEWABLES for MINING? 
WHO?
The Leader
Dr. Arnoldus M. van den Hurk is a Trainer in Technical and Financial Education about Mining and Energy (Power & Fuel) for Professionals in the Climate Change Era. He is Ph. D. In Geology (Barcelona and Tübingen Universities) and MBA (Madrid – Shanghai Tongji University). He is General Manager of R4mining and Director of REMIO (Renewable Energies and Mining International Observatory).
Https://www.linkedin.com/in/arnoldusmateovandenhurkmir

Fotos: (left) Perú and (right) Chile workshops
For 30 years, Arnold has been an adviser and professional in geo-mining, renewable energies, company and real estate appraisal and financial analysis. He has worked in Europe, South America, the Caribbean, Africa and China.
He has wide knowledge and experience in both renewable and mining sectors. He is passionate about connecting these two sectors to improve the three bottom line efficiency of mining reducing uncertainties and risks in mitigating Climate Change.
It has also extensive experience in training in Universities, Business Schools and companies in Barcelona, Lima, Madrid, Tübingen, Tongi-Shanghai, Anhui China, Lima-Peru, Santiago Chile, Toronto, London, Johannesburg, Cartagena-Colombia, Curaçao, etc. .). His LinkedIn Group about Renewables for Mining and Oil Industry has more than 1,000 members.
Https://www.linkedin.com/groups/Renewable-Energy-Mining-Oil-Industry-4852089
Workshop Peru (left; 2016); Santiago Chile Conference (centre, 2015) and Toronto conference (right, 2014)
Last one day international workshop made by Dr. van den Hurk was at Lima, Perú as special guest for the 2nd Mining and Renewables Peruvian Congress  November 28-30 2016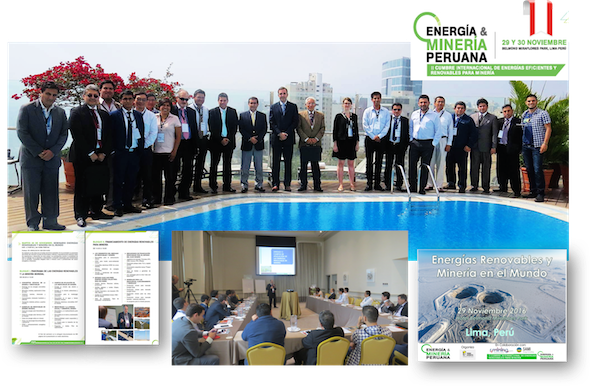 Composition of the Workshop r4mining at Lima (Peru) November 2016
The Organizers

Energy and Mines is the leading global information and event media provider for energy management and operations of the mining sector. Through its global Summit series (Canada, South Africa, Chile, UK, Australia) web portal and newsletter, Energy and Mines brings together the mining and renewable energy sectors to drive solutions for affordable, reliable and sustainable power for mines.
2016 RENEWABLES AND MINING RANKINGS & AWARDS
Registration is now open. For more information, visit www.australia.energyandmines.com for more details and contact Adrienne Baker at
or
+1 613 680 2482
List of companies attending previous workshops
1. Engineering & Construction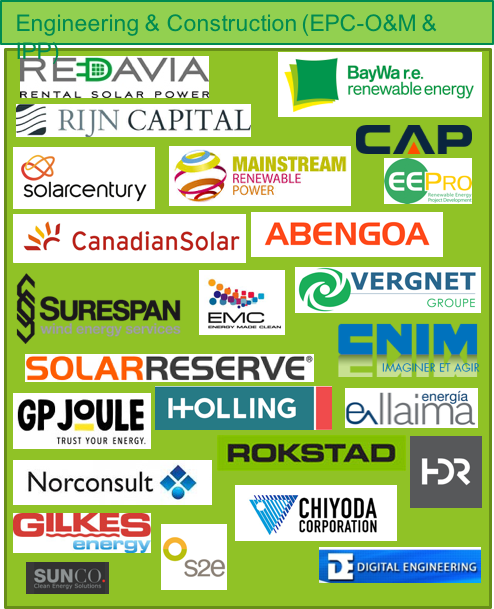 2. Equipment Manufacturers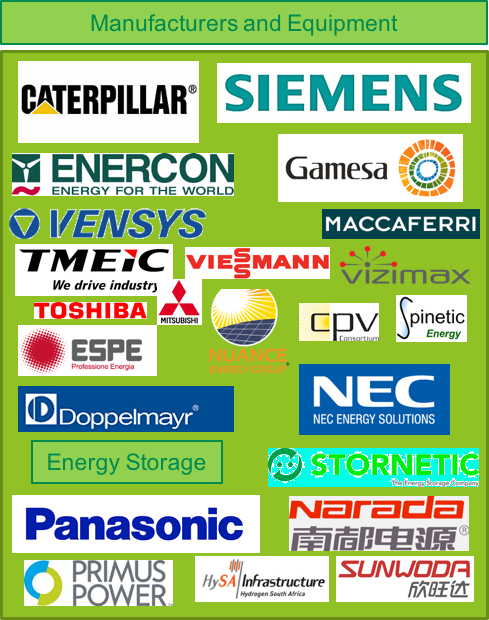 3. Utilities (Power & Fuel)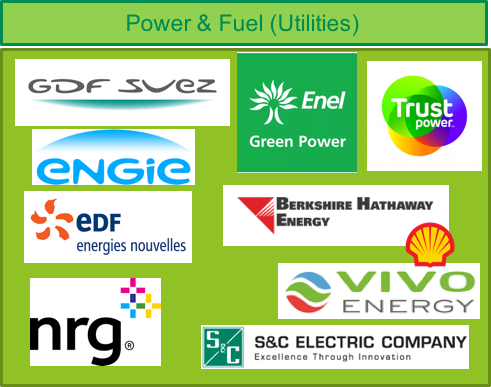 4. Mining, Institutional and Others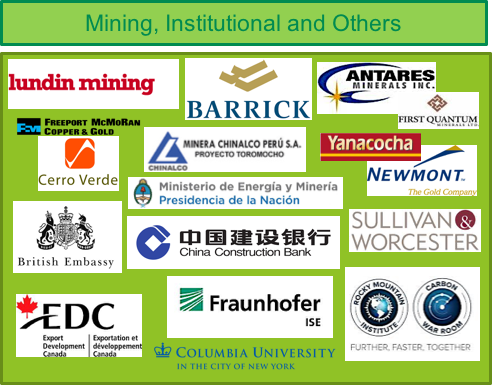 Workshop Contents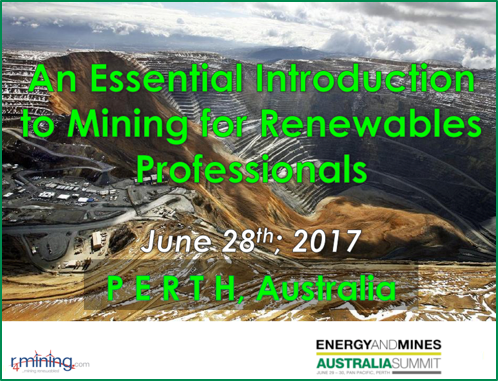 At the end of units: Coffee Break and Lunch.
UNIT A: INTRODUCTION TO MINING CYCLE
20 minutes per Session
Session 1: Introduction to Renewables & Mining

Minerals, metals, ore and mine lifecycle. Reserves and resources. Metals and Alloys. Renewables and Mining major segments. 2016 R&M Awards.
Session 2: Mining Exploration

Greenfield and Brownfield Exploration. Geophysics. Geochemistry. Geology. Diamond Core Drilling. Economics of Mineral Exploration. Pre-feasibility Reports. Stock Market Junior Mines Finance
Session 3: Mining Planning

Infrastructure (Energy, Water, Transport, Dewatering). Mining Engineers. Workforce. FIFO Decisions. Social & Environmental Considerations. Indigenous Impacts. Social License Decision Point. Digging Through the Numbers. Mine Cost Curves. Resource Equities Analysts. Mine Economics Decision Point. Feasibility Reports. Mine Transport. Trucks. Trains. Pipes. Ports
Session 4: Mining Operation

Living Plan. Geotechnical Engineering. Types of Mining. Surface Mining (Open Pit, Strip, Quarry, Leach, Dredge). Underground Mining (Room & Pillar, Open Stoping. Longwall, Sub-level, Block Coving). Processing (Gold, Iron Ore, Nickel, Copper). Blasting. Hauling. Comminution (grinding and milling). Concentration. Extractive Metallurgy (hydro – leaching, Pyro – smelting; Electro – refining).
Session 5: Mining Closure

Closure vs. Reclamation. Care and Maintenance. Economics of Mine Closure. Closing a Mine. Mine Closure Examples. Renewables in Mine Closure.
UNIT B: MINING ENERGY USE, DEMAND, STORAGE & FUTURE DEMAND
Session 6: Open Pit Mining Energy Requirements & Future Trends

Electricity and Fuels. Power requirements (Drilling & Blasting, Excavation & Hauling, Lighting, Ore conveying, Concentration – Grinding & Crushing – Flotation). Copper, Gold and Iron Ore Mining.
Session 7: Underground Mining Energy Requirements & Future Trends

Blasting. Mucking. Transport. Crushing. Hoisting. Ventilation (Surface and underground fans). Hoisting. Compressed Air. Electric Trucks. Mines of Platinum, Nickel, Gold, Copper, Lead Zing
Session 8: Off-grid Mining Energy Requirements & Future Trends

Case Studies Comparison and Evaluation: Diavik (Wind, Canada), Raglan (Wind and storage, Canada) Juwi (solar pv and storage, Australia). Cronimet (solar PV, Africa), El Toqui (hydro and wind, Chile), Rosebek IAMGOLD (Solar PV, solar thermal, small storage, Suriname)
Session 9: Mineral Processing Energy Requirements & Future Demand

Comminution (Grinding & Milling) vs extraction. Leach – Solvent Extraction – Electro wiring, Absorption, Smelter, Drying, dewatering and Tailing disposal. Concentrates vs. Cathodes. Mining Services. Aluminum – Wet and Dry Cement – Copper – Iron Steel.
Session 10: Water & Transport Energy Requirements & Future Demand

Pumping. Hydrometallurgy. Water and Maintenance. Mining electric vehicles evolution. Commodity transport energy requirement in mine. To port.

UNIT C: MINING SOCIAL & ENVIRONMENTAL LICENCE, THE CSR
Session 11: Renewables & Mining Environmental Responsibility

Environmental impacts (Waste Rock, Tailings, Acid Rock Drainage, Dust, Noise and Vibration). Impact Quality Control (Soil, Flora, Fauna, Water, Air). Waste Management. GHG Emissions and Carbon Footprint. Sustainable Mining. Environmental Impact Assessment Process.
Session 12: Renewables & Mining Social Responsibility

Community. Third Parties. Environmental to Social. Renewables, jobs and CSR (Corporate Social Responsibility). Case Studies (Chile – Peru and "Comunidades Andinas", Canada and First Nations, Australian and aborigines, African mines and communities).
Session 13: Renewables to Mine Closure & Reclamation

Examples of standard Closure. Cases of Wind and solar PV mining Closures. Hydro storage pumping mine closures (surface and underground). Submission Requirements for a reclamation Plan. Financial Assurance.
Session 14: CSR in Mining Corporations & Market Structure

Mining headquarters and operational departments. Organizational structure. Market concentration. Companies sizing. Leaders and Followers. Rankings of Renewables and Mining
Session 15: Renewables & Mining Supply Chain CSR

The importance of EPCM in Mining. World Class Mining Supply Homologation. Renewables for Mining and for Mining Engineering.
UNIT D: RENEWABLES & MINING MARKET SCOPE
Session 16:

Mining and Mines in AUSTRALIA

Introduction to mines, mining companies and regions. The renewable energy and energy storage potential for Australian Mines.
Session 17: Renewables for Mining Self-consumption

Renewable Models for Mining energy self-consumption: Canada, USA, Argentina, Chile, Mexico Australia, South Africa, Suriname, Burkina Faso, Botswana.
Session 18: Renewables for Utilities to Mining Consumption

Renewables Models for Utilities to Mining Consumption: Chile, Perú, Argentina, Mexico, Canada, USA.
Session 19: Renewables to Mining Power Companies

Renewables Models for Mining Power Companies: Canada, Chile, India, Indonesia, Australia, Iceland
Session 20:

Final Summary

& Market Recommendations
WHERE?
PAN PACIFIC PERTH
207 Adelaide Terrace,
Perth, WA 6000
Tel: +61 8 9224 7748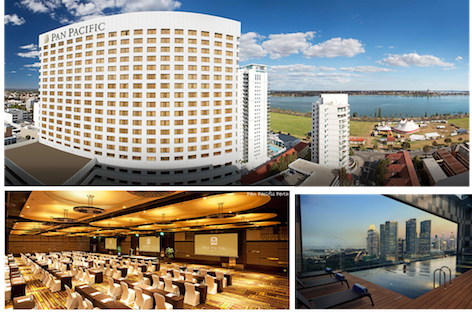 SERVICES INCLUDED:

Lunch time Workshop Santiago Chile May 2016

Lunch time Workshop Johannesburg June 2015
NOW WHAT?
Registration, prices and conditions:
An Essential Introduction to Mining for Renewables Professionals
To be held on Wednesday June 28th, this is a full-day workshop including lunch, breaks plus hard and electronic copies of the materials and repository with key documents, videos and Photos.  The summit provides renewables professionals with exactly the right information to enable them to effectively engage with the mining community.  
Workshop Fee: A$995 + GST
DISCOUNTS, PROMOTIONAL CODES, MULTIPLE BOOKINGS
We offer discounts for colleagues and customers of our speaking and supporting organisations. We also offer discounts to academic, government and non-profit organisations. Multiple bookings from the same organisation (3 or more) qualify for discounts too. For details of these discounts and codes contact andrew.slavin@energyandmines.com