Enel Green Power lands 326 MW of Renewables in Peru
Enel Green Power (EPG) has entered into Peru's marketplace, with the recent announcement of 3 new projects — one solar energy, one wind energy, and one hydroelectric. The 3 projects are all currently expected to enter service before 2018. The contracts relate to 180 megawatts (MW) of new solar photovoltaic (PV) project capacity, 126 MW of new wind energy capacity, and 20 MW of new hydroelectric capacity — for a total of 326 MW of new renewables capacity.
The Italian company was granted 20-year contracts for the 3 projects, all of which "provide for the sale of specified volumes of energy generated by the plants." The projects won the contracts via a recent renewable energy tender launched by the energy regulator Osinergmin.
"With 326 MW awarded in the tender, EGP will become by 2018 the main renewable player in Peru and the only company operating plants of 3 different renewable technologies in the country."
More than 1 TWh / year for Solar & Wind production
Altogether, development costs for the 3 projects are expected to total around $400 million. The Nazca wind energy project will be installed in the southern region of Ica; the Rubi solar PV project will be found in the southern region of Moquegua; and the Ayanunga hydroelectric project will be found in the central region of Huanuco.
The Nazca project is expected to generate around 600 gigawatt-hours (GWh) of electricity annually; the Rubi project around 440 GWh a year; and the Ayanunga project around 140 GWh a year.
Figure: Winners of the 4th Renewable Energy Tender in Perú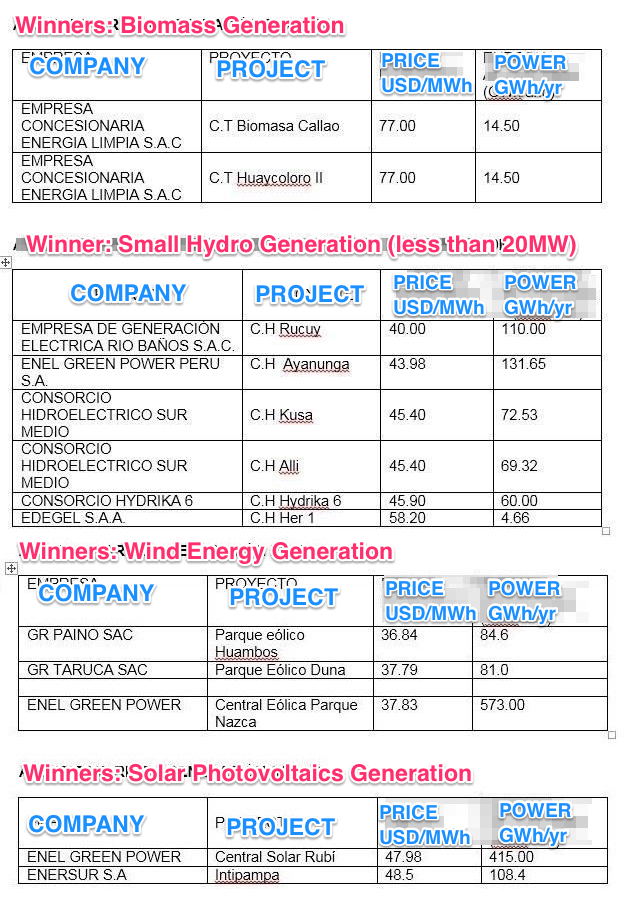 Solar & Wind in the «Golden» mining Perú
While it is true that these future installations of Enel Green employed by the State and will be used in the national grid, a significant part of these MWh will be consumed by the incipient mining copper cluster to the south.
Perú is one of the power cheapest countries in Latin American power (see previous figure), solar PV energy offer ( 47.98-48.5 USD/MWh) equivalent prices than submitted for small hydro winners (40-45 to 58 USD/MWh). And wind energy even cheaper (36.84-37.83 USD/MWh). «New» renewables invade other mining latam country, a country named «Perú» which means from ancient pre-columbian language, «Gold«.
Enel Power (former Spanish «Endesa») discovers new «El Dorado» … with 1,000 GWh (1 TWh) a year solar & wind and 140 GWh for small hydro.