The «Oracle for Investments» looks at the Renewable Energy for Mining
Spanish version: https://renewables4mining.com/warren-buffett-analiza-invertir-500-mw-de-energia-solar-pv-en-minera-de-cobre/

If anyone was not convinced of the appropriateness of investing in renewable energy for mining, this article may help you make the right decision. Renewable energy for mining are coming into the major investment portfolios in the world. Even the so-called «Oracle of Omaha» will consider an investment to dispatch power to a copper mine up to 500 MW of photovoltaic solar energy.
On 2013, Warren Buffett touted his investment in renewables in a letter to shareholders and promised to keep looking for opportunity beyond his current businesses.  «[We] are the leader in renewables: first, from a standing start nine years ago, we now account for 6% of the country's wind generation capacity. Second, when we complete three projects now under construction, we will own about 14% of U.S. solar-generation capacity,» wrote Buffett.
Warren Buffett made an even bigger splash in renewables in December 2013. His MidAmerican Solar paid $2 billion to $2.5 billion for the 579-megawatt Antelope Valley Solar Projects from SunPower Corp., the largest photovoltaic project in the world.
When yesterday I was reading the weekly newsletter of Energy and Mines about a new potential investment of solar energy for mining I didn't believe what's going on at Nevada.
The Mine: Nevada Copper Corp.
Nevada Copper (TSX:NCU) owns 100% of the Pumpkin Hollow Copper Development Property located in Nevada, United States. Pumpkin Hollow is a large advanced stage development copper property with substantial reserves and resources including copper, gold, silver, as well as a large iron resource.
Mineral Reserves
Proven and Probable mineral reserves are the economically-mineable portions of the Measured and Indicated Mineral Resources as demonstrated in a Feasibility Study. The Proven and Probable Mineral Reserves at Pumpkin Hollow, as announced in the May 28, 2015 press release and disclosed in the NI 43-101 Technical Report Integrated Feasibility Study filed on Sedar in July, 2015, with an effective date of April 15, 2015, are summarized below (image linked to the source of complete report on reserves and resources):
The Energy Partner, NV Energy
NV Energy, Inc. provides a wide range of energy services to 1.3 million customers throughout Nevada and nearly 40 million tourists annually. NV Energy is a holding company whose principal subsidiaries, Nevada Power Company and Sierra Pacific Power Company, are doing business as NV Energy. The company is headquartered in Las Vegas, Nevada.
NV Energy is the product of the 1998 merger of the two major utilities in Nevada—northern Nevada's Sierra Pacific Power, based in Reno, and Las Vegas' Nevada Power. MidAmerican Energy Holdings Company (now Berkshire Hathaway Energy), a subsidiary of Berkshire Hathaway, acquired NV Energy in a transaction completed on December 19, 2013 when Warren Buffett  invested 2.5 US$ billion in solar energy facilities. NV Energy will continue to be based in Las Vegas under its current name. Prior to the acquisition by MidAmerican, the company's common stock was listed on the New York Stock Exchange under the ticker symbol NVE.
Initial investigations indicate the potential for up to 500 MW of solar generation on our project landholdings surplus to our mining needs."


The Deal:
VANCOUVER, BRITISH COLUMBIA–(Marketwired – Feb. 11, 2016) – Nevada Copper Corp. (TSX:NCU) ("Nevada Copper" or the "Company") is pleased to announce that it has entered into an agreement (the "Agreement") with NV Energy to conduct a study of the potential to develop a solar energy generation project on Nevada Copper's privately-owned land ("Solar Study"). This land is adjacent to the Company's proposed Pumpkin Hollow copper development project.
Nevada Copper expects this Solar Study to be completed within three months. Nevada Copper and NV Energy seek to evaluate, at a scoping level, the feasibility of developing a solar facility on private land owned by Nevada Copper that is available for solar generation facilities. Subject to the results of the Study, the parties would have an opportunity to enter into an agreement to pursue a solar development opportunity. The Solar Study will be done at no cost to the Company, in consideration of which, a 90-day exclusivity period was granted to NV Energy. After the 90-day exclusivity period, if no development agreement has been mutually agreed after good-faith efforts, the Company will be free to solicit interest from other parties.
Giulio Bonifacio, the CEO of Nevada Copper commented on the Agreement:
"Nevada Copper is very interested in developing solar energy on its project area, both to supply power to the mine, and to deliver power to the grid. This presents another significant opportunity that is the direct result of the successful passage of the land bill which was signed into law by President Obama and resulted in receipt of all permits to construct a mine.
"Additionally the current zoning of these private lands owned by the Company allows for solar development and has no environmental or engineering constraints. The Solar Study will provide site-specific evaluation of the solar potential on our lands at no cost to the Company and will prove beneficial in all discussions regarding future development of the solar development opportunity. Initial investigations indicate the potential for up to 500 MW of solar generation on our project landholdings surplus to our mining needs."
Nevada Copper successfully collaborated with the City of Yerington and Lyon County in 2015 to implement the purchase of federal lands by the City and in October 2015 the City re-conveyed and deeded 9,145 acres to the Company. The Company's private land surface rights now total 10,683 acres (43 km2). With the completion of the land conveyance, Nevada Copper continues to advance financing discussions to support development of the Pumpkin Hollow copper project, while also considering other commercial and industrial development opportunities.
Solar power generation was one of the key industrial opportunities afforded by the Company's acquisition of the large private land package. This is due to both the industrial zoning of the entire site and lack of any requirements for land use permits, as well as the high solar potential of the area. According to data published by the National Renewable Energy Lab ("NREL"), the Pumpkin Hollow project area, has a high level of solar irradiation, 6.5-7.0 kilowatt hours per square meter per day (kW-hr/m2/day).
Depending on the ultimate scope of the Pumpkin Hollow copper mine development, the Company estimates that 2,000-4,000 acres of land adjacent to, and outside of, the area of proposed mine facilities could be utilized for solar generation. Based on the NREL solar irradiation data, a 200 megawatt (MW) typical solar photovoltaic project in the Yerington area would require 1,600-2,000 acres of land. This implies a potential for up 500 MW of solar power development capacity. Evaluation of energy transmission options would be part of the Solar Study. Solar energy generated at the project could be used at the site and/or transmitted into the grid via existing high voltage transmission lines located east of the project area, or via other routes. A power line corridor connecting the project to transmission lines is part of the proposed copper project development plan and the Company acquired fee title to that land as part of the land conveyance.
The land proposed for solar development is privately owned by Nevada Copper and has been zoned M-1 Industrial by the City of Yerington. This zoning allows for solar development and has no environmental or engineering constraints for such a development. The land is also close proximity to federal and state highways and other infrastructure. With such a potential solar project development, the Pumpkin Hollow copper project would help enhance renewable energy development in Nevada. The Nevada Copper mine project and an adjacent solar project also could realize mutual benefit with potential shared grid-connection costs. If found to be feasible, a solar power development could be developed as a standalone operation, or as part of the proposed copper mine development at Pumpkin Hollow.
 Renewables for Mining enter in the «World Finance Game»
Last January in London (see image bellow), the financial capital and mining commodities, hosted the seventh summit of renewable energy for mining organised by Energy and Mines. Unlike the previous 6 summits (Toronto, Johannesburg, Santiago de Chile) where engineers were more numerous than investors and financial investors in London outscored the miners and energy engineers. Financial centers are awakening to this new sector even in times of crisis in world mining.
Undoubtedly these movements are more important today on the basis of the recent agreement in Paris from COP21. Some experts believe that the shift to a low carbon society will need 100 million tons of new copper, or what is the same, 100% of world copper mine production for a decade dedicated to this task. And this data relevant to both green energy investors and investors in commodities.
As an example of the double link between renewables and mining (both sides), in the NV Energy – Nevada Copper Deal up to 500 MW Solar PV will need 2,000 tonnes of copper to built this installation embedded in cables and PV modules. In terms of electricity to produce this quantity of copper a standard mine needs to consume 2 – 2.5 GWh.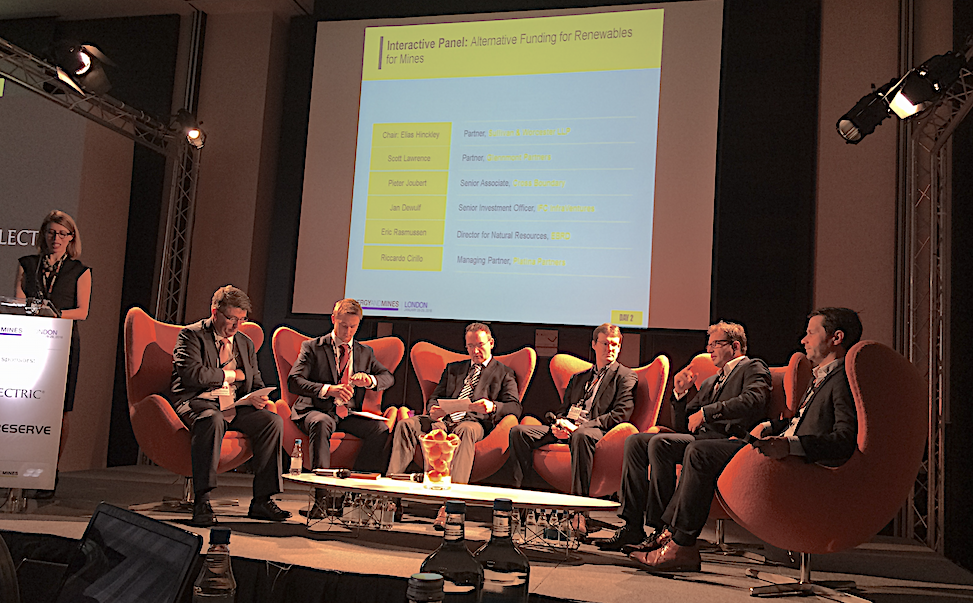 Image: Interactive Panel about Alternative Funding for Renewables for Mines, last January at London's summit  of "Energy and Mines"
What next for Warren Buffett's energy team?
If the study convince Berkshire Hathaway, Warren Buffett would write another letter to the shareholders as follows: «Not only we are the leaders in renewables for mining in US, we will lead Solar Energy for Copper Mining and with only one facility we will surpass any of the chilean solar PV facilities serving energy to copper mining cluster. Finally we will become a world leader in Renewables for Mining«.
Mining will be the best industrial sector to invest for renewables industry for the next decades. Mining is responsible of 9-10% of total electricity consumption and only the comminution (grinding and milling) process achieves a 3% of total world electricity equaling the consumption of electricity of Germany. It's sure the signal Warren Buffett energy will create a hotspot on new investment for renewables.
If  you are interesting about these topics, please you are welcome to participate on the LinkedIn group about «Renewable Energy for Mining and Oil Industry».