12 companies from 7 countries run to get Chilean Lithium
Source (modify): www.biobiochile.cl 
There are 12 companies – from China, Korea, Belgium, Russia, Canada, the United States and Chile – that applied to industrialize Chile's lithium, in the call made by CORFO and InvestChile.
CORFO executive vice president Eduardo Bitran said: «We have been very successful, because we are united to the global mobility industry, with the world's largest lithium reserves in the Atacama salt mine owned by Corfo. The result will be the creation of a value-added industry».
The proposals include, but are not limited to, lithium metal salts, lithium metal, lithium cathodes, ingots and battery sheets, battery cathode materials in a future battery generation.
Bitran added that «recent announcements of European automotive companies and their governments, among many other examples, confirm that the world is rapidly turning to electro mobility, which demands a lot of copper and lithium. Chile, taking advantage of its enormous solar potential, will have low copper in emission and high quality lithium, benefiting our country with more income, more work, more development, more research, more benefits for communities and higher non-metallic mining royalties in the world , Thanks to the agreement signed between Corfo and Albemarle «.
On the other hand, Carlos Álvarez Executive Director of InvestChile said «The significant participation of leading foreign companies in their field, confirms once again the confidence generated by Chile as an investment location, this time for the production of manufactures that add value to our raw Materials».
The candidates
The 12 companies that submitted proposals were the following:
 TVEL Fuel Company of Rosatom de Rusia.
Suchuam Fulin Industrial Group Co. Ltd. de China.
Shenzheng Matel Tech.Co. Ltd. y Jiangmen Kanhoo Industry Co. Ltd. de China.
Molymet de Chile.
Gansu Daxiang Energy Thecnology Co Ltd. de China.
Imelsa S.A. de Chile
UMICORE, Belgium.
Bravo Motor Company of United States
SAMSUNG SDI Co. Ltd. Korea.
SinoVenture Chile of  China.
Invermer S.A. representing the Foundation DERC (Desert Energy Research Centre) y Corporación IDEOJ de Chile.
Rubystock Financial Capital Corp. & Fallingbrook Commodities Ltd. de Canada.
Lithium Industrialization
It is recalled that the option to industrialize the lithium emerged following the recent signing of the agreement between Corfo and Albemarle, where it was established that part of the extracted lithium must be processed in Chile by manufacturing products that allow exporting products with higher added value and develop a Industry linked to this mineral.
The strong international interest of this call lies in the development and strategic focus that lithium currently has in Chile, which has been followed and monitored by various markets and by specialized economic means, such as Financial Times, The Economist, Wall Street Journal or Bloomberg , among others.
Chile currently has one of the largest lithium reserves in the world, with an approximate annual production of 80 thousand tons of lithium carbonate equivalent (LCE), which is estimated to increase to more than 150 thousand tons of LCE for the year 2021, thus maintaining the leadership of the world production of this element.
The call seeks to promote the development of this industry, to make the country a relevant player in the region and worldwide in the production, marketing, generation of added value in the development of human capital and productive chain around lithium. In this way, it will be able to better address the growing demand for the electric car and hybrid vehicle market, as well as respond to global trends to promote the use of Non-Conventional Renewable Energy (ERNC).
The process, which took place over three months, is part of the contract between Corfo and Albermarle (formerly Rockwood Lithium Limited). The agreement considers the exploitation of lithium in the Salar de Atacama, opening the possibility for companies to access a supply of lithium at a favorable price and with volumes insured in the long term.
Deadlines
The next step analyzes the projects presented by the companies, who in their entirety sent a «Letter of Interest Expression» to Corfo, in addition to the detail of the offer of value-added lithium products that they would develop, the documentation that guarantees the experience and Technical capacity to carry out its proposal (in the fields of investment and production).
The evaluation committee led by Corfo – will have 30 days to select a group of companies. After this stage, the pre-selected companies will be notified, after which 90 days were defined for the stage of project improvement and presentation of the investment project.
Prices Batteries by Bloomberg (2010 – 2016)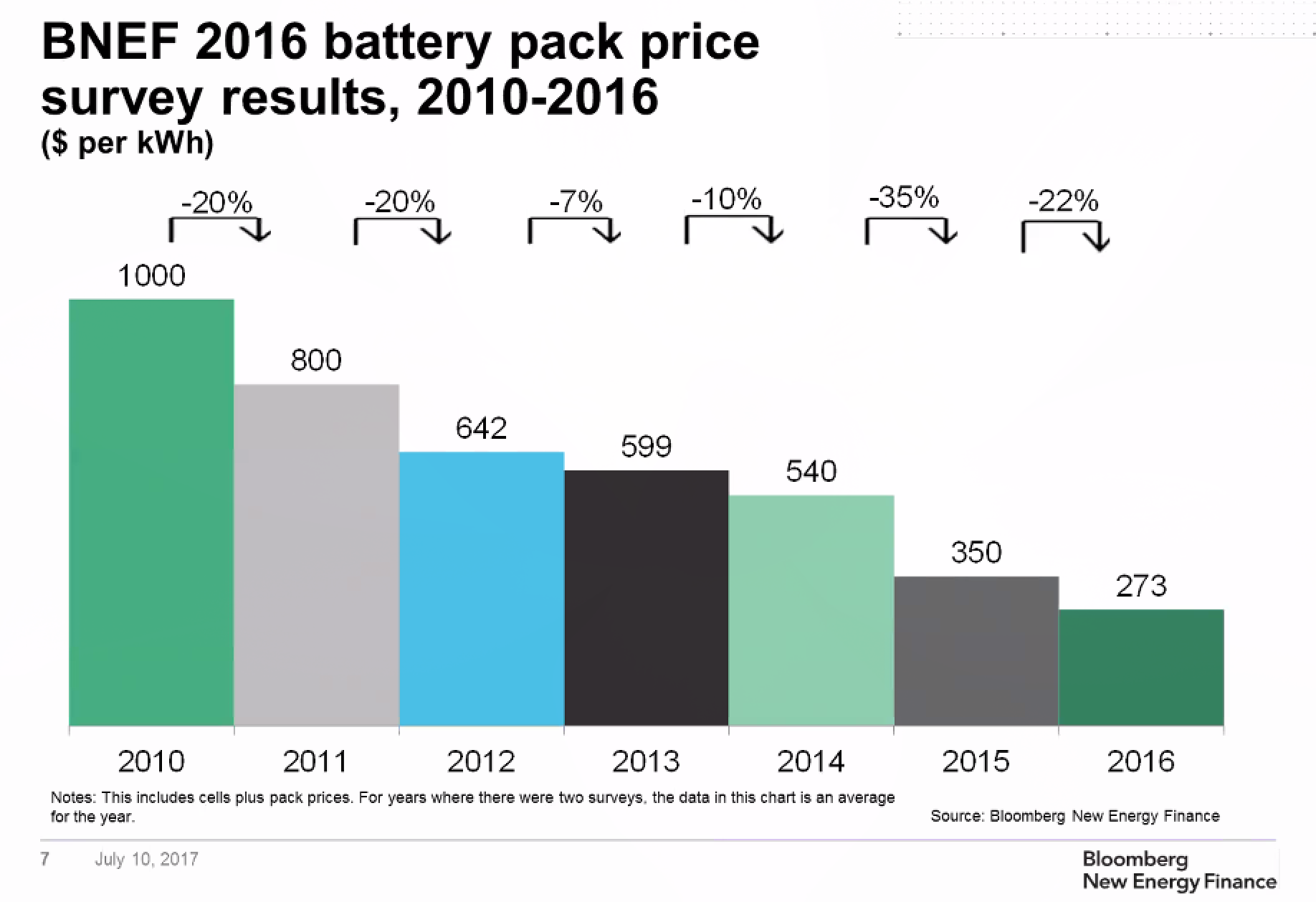 Country strategy input by Corfo
The development of electro mobility worldwide, both to tackle climate change and pollution, ensures an increase in the demand for copper, which can mean between 2 and 3 million tons by 2035, of which at least 40% Would be geared towards a market that would require low copper traceability in CO2 emissions.
Each electric car consumes four times more copper than an internal combustion car. We are interested in stimulating this growth, since we have 30% of the world's reserves of Copper the best solar radiation of the planet (as it has been highlighted by international means like Washington Post) and therefore the best possibility to produce copper low in world emissions .
To generate this growth is key to increase the supply of lithium to the world market.
Lithium-ion batteries are the technology available for at least the next 20 years. Chile owns 52% of the world's reserves of Lithium. The world market will rise from 185 thousand tons in 2016 to more than seven hundred thousand tons in 2025.
We have reached an agreement with the world's leading producer of lithium, which will allow us to double lithium production by 2021, and in May – this year – increased processing capacity when we inaugurated a Lithium Carbonate Grado Battery in La Negra Antofagasta for over US $ 300 million investment.
This agreement will generate more than US $ 3 billion worth of significant resources for the Atacameñas communities and for Research and Development, and will facilitate the growth of demand for copper and low copper in emissions. Investors are currently being prequalified to develop value-added lithium projects in the value chain of electric cars and other markets linked to energy efficiency and Renewable Energies. The process must be completed no later than January 2018.