Announcing Energy and Mines Australia Summit, June 29-30, Perth
March 24, 2017 —– Energy and Mines is delighted to announce the launch of the Energy and Mines Australia Summit to take place June 29-30 at the Pan Pacific, Perth. The Summit will provide a timely platform for mining leaders to meet with international renewables and finance experts to explore solutions for affordable and reliable power solutions for mines.
Driven by high power costs, grid reliability concerns and carbon reduction targets, Australia's mining industry is now actively exploring renewable energy options. New and operating remote mines are assessing the cost savings and carbon reduction benefits renewables offer when integrated with diesel and gas-powered generators. While grid-tied sites are reviewing behind-the-meter renewables options to counteract rising electricity costs and grid instability challenges.
The Summit will feature local and international case studies from mining operators that have integrated renewable energy and storage solutions to drive down energy prices, ensure power reliability, and reduce carbon exposure. SunSHIFT is the In Association Sponsor for the Summit which offers a complete picture of current opportunities and challenges in integrating alternative energy options for remote, fringe-of-grid, and grid-connected mines.
"We look forward to providing the mining community with an update around our modular, recoverable solar assets, designed specifically to provide mines with affordable, reliable and flexible power," commented Will Rayward-Smith, General Manager, SunSHIFT. 
The Australian Renewable Energy Agency (ARENA) has assisted with putting together the Summit and ARENA CEO Ivor Frischknecht will provide a keynote presentation on June 29th. ARENA has been integral to the success of innovative renewable energy projects for Australian mines including Sandfire's Solar-Storage Hybrid for the DeGrussa Mine and Rio Tinto's Weipa Solar Plant.
 "ARENA believes in the power of shared knowledge and is seeking to drive the transition to renewable energy for off-grid industries. We have released data and insights from a number of supported projects that show how renewables can benefit mining companies," Mr Frischknecht said.
In addition to SunSHIFT, ABB is a Lead Sponsor of this high-caliber Summit and Advisian (Worley Parsons Group), GHD, Hatch and VSUN Energy are also sponsors. "We are delighted with the response we have had thus far from miners and renewables experts interested in participating in our Australia Summit which marks our 10th event on renewables for mines in key mining centers," commented Adrienne Baker, Director, Energy and Mines. "Energy is top strategic concern for the mining sector in Australia and we are beginning to see more and more innovative, groundbreaking projects for mines that demonstrate the commercial viability and performance of alternative power."
Registration and Contact
Registration is now open. For more information, visit www.australia.energyandmines.com for more details and contact Adrienne Baker at adrienne.baker@energyandmines.com or +1 613 680 2482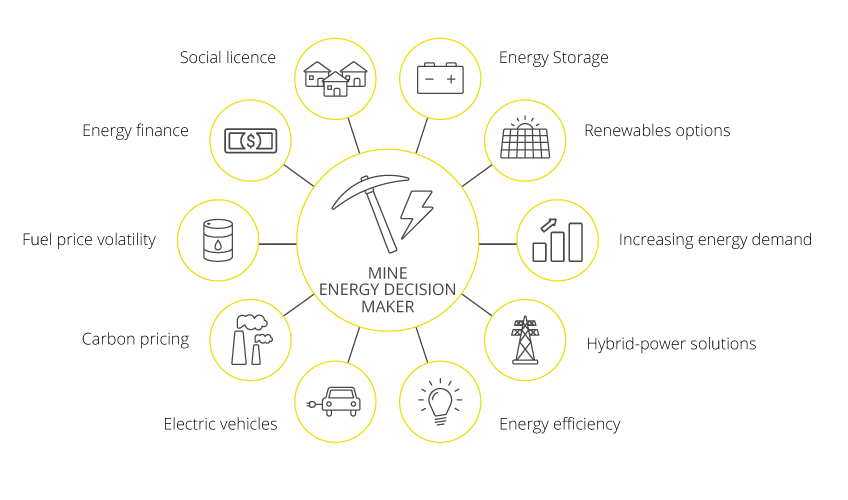 About Energy and Mines
Energy and Mines is the leading global information and event media provider for energy management and operations of the mining sector. Through its global Summit series (Canada, South Africa, Chile, UK, Australia) web portal and newsletter, Energy and Mines brings together the mining and renewable energy sectors to drive solutions for affordable, reliable and sustainable power for mines. www.energyandmines.com.