How to organize the Renewables and Mining Market (R&M)?
Click here for SPANISH VERSION OF THIS ARTICLE
SOURCES: r4mining,  Energy and Mines Workshops: London (January 2016), Santiago Chile (May 2016), Toronto (November 2016),  y Summits / Congress Energy and Mines. Seminario – 2nd Congress Renewables and Mining of Perú (Lima, Nov-December 2016) and conferencia JA Estela.
I would like to sincerely thank the following experts for their comments, corrections and advice to improve this article: Dr. Andrew Slavin and Adrienne Baker (Energy and Mines, Canada), Jose Antonio Estela (Sami Energy, Peru), Javier Villena Lechuga (Codelco, Chile), Dr. Thomas Hillig (Germany), Scott Fraser (Fraser Energy, Canada), Rob Lydan (Lydan Partners, Canada), Alastaire Dick (CWR-RMI, South Africa), Russell Blades (Barrick, Canada), John Okoro (Vergnet, African countries), Andreas Boes (Siemens, Germany), Liezl van Wyk (Rio Tinto, Canada), Salvatore Bernabei (Enel, Chile and LatAm), Marco Giannettoni (Renergetica, Italy), Akram Elhenawy (Caterpillar, USA), Gerhard Wernecke (Cronimet, South Africa), Ignacio Castro (Grupo Mexico, Mexico), Ian Nelson (Energia Llaima, Chile), Marc Rivard (Vergnet, France), Linda Wrong (Lundin Mining, Canada)) and Peter Drager (Juwi, Australia).
Origin of the Taxonomic Proposition for the R&M Market
r4mining  in collaboration with REMIO  and with the support of Energy and Mines Have developed the Taxonomy of the Renewable Energy and Mining Market (R & M). This market classification is based on a research that began at the Energy and Mines Summit (Toronto; October 2014). The research has been carried out by determining the main groups and business models where the Non-Conventional Renewable Energy (NCRE), and its collateral markets of energy storage and electric vehicles, interact with Mining and vice versa. This market organization allowed the achievement of the Rankings 2016 and the determination of candidates in some of the Awards 2016. These were awarded at the international conference in Toronto last November. This methodology was also applied in the second congress of R & M of Peru and applied to this market by the engineer José Antonio Estela 2016.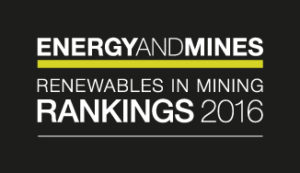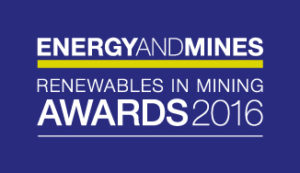 Why? Reasons for the R&M Taxonomy
Main objective of this taxonomy looks to find a consensus in unifying the different market understandings the mines and the producers and promoters of NCRE. The main constraints in the analysis of this hybrid market of R&M come from the lack of a consensus in the nomenclature and in the strict definition of what «Mining Market» represents, or what and what not the NCRE means and finally, what we have to take into account as Energy Storage (AE) and we do not take it.
Each mine determines a specific ecosystem, a «facies» according to geologists, which combined with natural resources (climate, water, sun, wind, etc) defines these specific «R4M ecosystems». And this is the reason why this market metrics cannot depend only type of mine (gold, copper, lithium, iron, coal or diamonds), NCRE technology (solar, wind, geothermal, etc.) or even geography (Asia, Europe, Australia). An accurate R&M taxonomy needs to facilitate the development of the following tasks:
Meet the requirements of developers of energy, renewable and nonrenewable not only the mining ones (i. e. NCRE development for coal mines).
Measure the current size of the market and its segments as far as possible.
Build a foundation to predict the evolution of the market by any of its segments.
To allow better case study organization to support international statistical data.
Obstacles in determining the R&M Market
Three are the obstacle in determining this Market:
Lack of an effective consensus for defining Mining Market.
Lack of Consensus on the determination of the Market for Renewables, Conventional or No.
Lack of Consensus in the determination of the Energy Storage Market (ES)
I. Lack of an effective consensus in the definition of Mining Market
Mining is a complex industry, depending on the type of mineral or metal and its location generates a wide range of subjectivities with respect to its conceptual limits. Let's look at some comparative examples of this diversity: compare a diamond mine in northern Siberia with a phosphate in Morocco, with a gold mine in Peru, or a nickel in the Philippines, a silver mine in Mexico, Platinum in South Africa , Coal in Australia, India or Indonesia, Lithium or Copper in Chile or a polymetallic in Canada. It is a very diverse market and of difficult taxonomic lace. Some mines are offgrid and others are the main users of the electricity grid in their region, some belong to large multinationals, other local small other «junior» working financially as Silicon Valley startups. Each of them approach to the concept of mining market from a different perspective and regarding different needs. In searching for renewable energy solutions they move in diverse ways scoring different points of view for the R & M market. A kaleidoscope of perceptions and market definitions.
In other context and when analyzing this market, mining represents for some experts the simple extraction of mineral, for that reason they call them «extractive industries». However this si a confusing definition because we must also include the gas, oil and even groundwater. Other analysts argue the mining industry, more specifically metal mining, the process must be understood from the extraction of ore to the formation of the metal. However, it is not correct either because metal mining has very different parts in the value chain of metal development. Let's see below why it is due:
In copper mining, many times the smelting and refining of metals is in or near the extraction site. As a result, extraction and «mining industry» is understood as mining or «mining operations».
In Aluminum Mining «mining operations» are separate, with the possible exception of Australian mines, bauxite mining mines and aluminum smelters are found in different countries or continents. According to The Economist 2012, in the case of China, 6% of total electricity demand is due to aluminum smelters, but most bauxite is imported. In this case, extractive mining is clearly different from the smelters.
In Ferrous Metal Mining this division is even more notorious because most of the ore goes to the ironworks that fuse it with other metals (Cr, Mo, etc.) from other mines and other countries and, in addition, it has to be included Metallurgical coal, which is not metal, for the development of steels and alloys. The smelters and extraction mining are fundamentally separated. On the other hand, certain companies are integrated vertically mine-siderurgy as in China, India or Russia or even in Chile (CAP), the origin of some steelworks are the result of the forward vertical integration of mining companies. The same goes for coal and thermoelectric companies.
This confusion was expressed and exposed in one of my publications where indicated certain market nearsightedness international statistics on mining. See also the link  Solarplaza.
II. Lack of Consensus on the determination of the Market for Renewables, Conventional or No.
For many professionals in this sector, renewable energies are simply solar and wind energy and do not take into account geothermal, bioenergy or hydropower energies. The same behaviour applies, for example, to biomass professionals which do not consider geothermal energy to be relevant, etc. However, the mines take into account all these technologies, especially if they are bankable. We consider all renewable R & M Market to achieve a more accurate market organization.
The professionals of the renewable energies have the general tendency to consider only the solar photovoltaic and wind energy segments as the real market for «renewables». This is due to the fact that the wind and solar resources are found in one form or another in all places of the land surface and the sea and because they mobilize a large amount of capital. At a particular level these solar and wind are also the two segments that have a close relationships to each of us since we can install solar modules or mini wind on the roof of our houses, however it is more difficult to do with geothermal, bioenergy or hydropower energies. For all this is not very clear when it comes to renewables, what really is meant by it.
Other Renewable Energies such as Solar Thermal Energy (Biomass and Biofuels), Geothermal (low and high enthalpy), Marine (current and tidal), Urban or Industrial Waste), Hydraulics and new Types (such as Kinetic Energy in Mineral Conveyor Belts) are very important in the mining of the future and should not be left out in the analysis of the market. The Renewable Energy market has a very close relationship with other collateral markets such as energy saving (AE) and electric vehicles or sustainable mobility. That is why they will be taken into account in the organization of this market.
III. Lack of Consensus in the determination of the Energy Storage Market (ES)
In the energy storage market there is also another «myopia of the market» with reference to lithium batteries. Because we use these types of batteries in our mobiles, tablets and laptops and lead batteries our cars, they seem to be the only types of energy storage (ES). However the ES market offers a much more diversified system of technologies to mining market as supercapacitors, Hydrogen ES, Flywheels, Hydraulic Pumping ES, Molten Salts,  Compressed Air (ES), ES Superconducting Magnets and, of course, the batteries (lithium, iron, lead, vanadium flow, etc.). And all this wide fan of technologies will be representative in our taxonomic organization.
In the future, hybridization of different types of AI (Lithium battery with flow batteries for example) will be common. We have a clear example today in the Canadian Glencore Rifle Mine flywheels or at the Sandfire DeGrussa mine in Australia with lithium batteries. This should be part of the renewable and mining market.
What kind of questions should the R & M taxonomy answer?
The lack of consensus in the determination of what is and what is not Mining, Renewables and Energy storage generates market myopia. When some analysts try to measure the size and future evolution of the market, there are very different approaches and data that confuse, due to this myopia, those interested in the development of the market.
In the last four years we have been talking to experts from five continents always asking questions of the following type:
Is there a database of Renewables and Mining?
How big is the R & M market?
What are its segments?
What forecasts of market growth do we have for the next 5, 10, 15, 20 … years?
This market myopia also appeared when determining the Energy & Mines Rankings and Awards of 2016 market definition. It was finally solved by removing non-priority variables for the E & M Summits and Conferences. Thus only cases with solar photovoltaic, thermal and wind energy were taken into account. Also the Energy Storage segment was represented but not for the hydraulic type. We could summarize that the selected functions were: self-consumption mining and renewable cases for Corporate Social Responsibility (CSR). Surely there are market players who are interested in other types and segments, and with this new taxonomy, we intend to provide a consensual proposition for everyone; a proposition in this way each person or company can determine what is their segment, the marketing is global and business development is local. Everyone happy.
To better understand the scope of the complexity of this market, we will see ten examples with questions that should be answered in a correct taxonomic classification R & M market:
CASE I: Are the Icelandic geothermal facilities of Alterra Power Corp. (Canadian collateral company of silver mining leader Pan American Silver Corp.) belonging to the R & M market that serve electrical power to produce Rio Tinto Aluminum?
The geothermal promotion companies and the Rio Tinto company must believe that these facilities are R & M market.
In other way gold miners or solar PV and wind energy developers should believe that they are not R & M market.
CASE II: Does the case of the Ollagüe Community (Chile, border with Bolivia), financed by the American mining company FreePort McMoRan and developed by Enel Green Power, belong to the Renewables and Mining market?
Chinese coal mining companies should not consider the Ollague community as «their market».
However companies manufacturing solar panels such as First Solar or mining companies like FreePort McMoRan (El Abra) believe that it should belong to the R & M market.
CASE III: Does the Asarco Mine shutdown facility (Mexico Group) belong to «Mission Mine», Arizona USA to the R & M market?
Mining companies focused solely on self-consumption do not consider these types of projects, «their market»
However, Asarco, Grupo Mexico, Freeport McMoRan and other mining companies where mine closures are important, renewables are an important part of the market
CASE IV: Does the high enthalpy geothermal installation of the Lihir gold mine in Papua New Guinea from Newcrest Gold belong to the R & M market?
For a wind or solar energy power developer / producer  (e. g. Vestas, Gamesa or Siemens), Lihir installation is not R&M
For mining companies of gold, silver copper of Southeast Asia or Peru must consider it of great interest
CASE V: Are the mega solar installations of northern Chile and southern Peru owned by electric companies belonging to the R & M market?
Power companies like Enel Green Power, Engie, Solar Reserve or Acciona are considered their best market
While Australia (Sandfire) or Africa (Cronimet) offgrid mines consider it «another market», but not theirs
CASE VI: Does the top world solar 648-MW photovoltaic installation of  Adani Indian mining group belong to the R & M market?
For most metal miners (copper, gold, iron …) they do not perceive this case as R & M market
However for all promoters, manufacturers and financiers of solar projects this project should be of all interest
CASE VII: Are the hydroelectric facilities of the Vale company in Brazil, Canada or Indonesia or those of Volcán Minera with the Huanchor Hydroelectric and the Generation Company Río Baños belonging to the R & M market?
For  Vale, Rio Tinto, BHP Billiton mining companies, they  consider them key R & M market.
But for wind and solar installers it should be considered a «separate market"
CASE VIII: Does the Kingston hydro storage mine closure project in Australia belong to the R & M market?
For many mining companies in the world it can be a very interesting model for their Corporate Social Responsibility
However for geothermal, biomass or mini hydraulics promoters. they consider not «the market"
CASE IX: This is the case of Teck Resources' 88 MWp Taconite Ridge wind farm in Canada whose function is to mitigate the miner's carbon footprint but without delivering electricity to the mine belongs to the R & M market?
For Teck Resources or Suncor, or even Google, they agree this case belongs to R&M market
For solar or hydraulic power promoters or for gold and diamond miners surely don't consider as R & M case
CASE X: Does the quarry closure with the construction of the Intercontinental Shimao Shanghai Hotel (at the base of Tianmenshan Mountain) self-supplied with hydroelectricity belong to the R & M market?
For most renewable developers it should not be
But for many miners it may be a useful model of final closure of a mine or quarry
We could continue with many of these questions with ambiguous answers, for some yes and for others not. Therefore we need to organize it.

Figure: Intercontinental Shimao Shanghai Hotel Project
New taxonomy should take into account a potential transverse segmentation or micro-segmentation as well on the following variables:
Typology of renewable technology (solar, wind, hydro, geothermal, etc.)
Mining type (gold, copper, iron, lithium, coal, concentrates, polymetallic …)
Geographical segmentation (locality, province, state, region, macroregion, continent …)
 … and variations on the previous typologies
It seems difficult to answer all these questions in a consensual way. It is and it has taken three years to develop this new model that can answer the particular questions of each mining or renewable ecosystem while responding to the generic market. In this way business developers and analysts can have a solid base where they can delimit the market sizes, their segments and future trends, forecasts, etc.
VALUE PROPOSITION: The Business & Power Flow Quadrant (BPFQ)
This proposition tries to summarize a very diverse casuistry where a dozen of NCRE technologies (solar PV, solar thermal, wind, biomass, biofuel, mini-hydraulics, low and high enthalpy geothermal, waste, marine, hydraulic pumping storage and their combinations ) with a score of mining types (gold, base metals, ferrous, coal, diamonds, etc.) as well as the new entrants with the hybrid networks and with energy storage and electric vehicles.
How do we organize the R&M Market?  Evaluation Criteria
The market segments emerged from this research are four and they have been organized on a quadrant basis, the BUSINESS-FLOW and POWER-FLOW Quadrant (or Business & PowerFlow Quadrant, BPFQ), based of two CRITERIA:
CRITERIA: The Business Flow (towards a mining business model or towards a model of electric power)
CRITERIA: The Flow of Electricity (flows to the mine or out of the mine)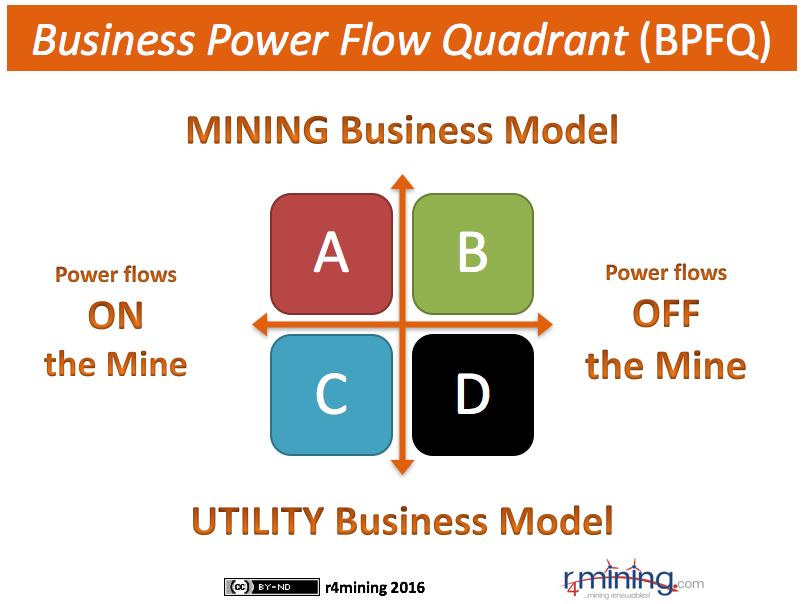 Simplicity is the ultimate sophistication. LEONARDO DA VINCI

BPF Quadrant Blocks and Functions:





In this way four taxonomic market segments arise:
Renewables FOR Mining (R4M): Self-Consumption Mining Functions
Mining FOR Renewables (

M4R

):  Corporate Social Responsibility Mining Functions

Renewable

TO

Mining (

R2M

): Renewable Power Mining Consumption Functions

 Mining TO Renewables (M2R): Functions of Renewable Electricity Miners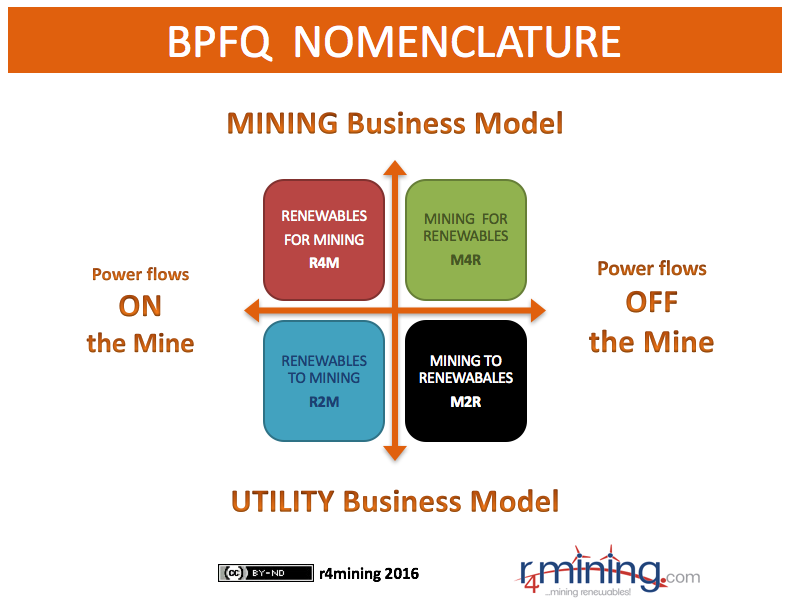 Block A (or R4M): Renewables for Mining Energy Self-Consumption
R4M Segment defining characteristics:
R4M "Renewables FOR Mining"

Towards Mining Business Model 
Power Flow IN Mining
Comments: In this segment there are facilities connected on grid and others isolated (offgrid). This segment is the priority market and represents the first approach to «Mining and Renewables» to new entrants.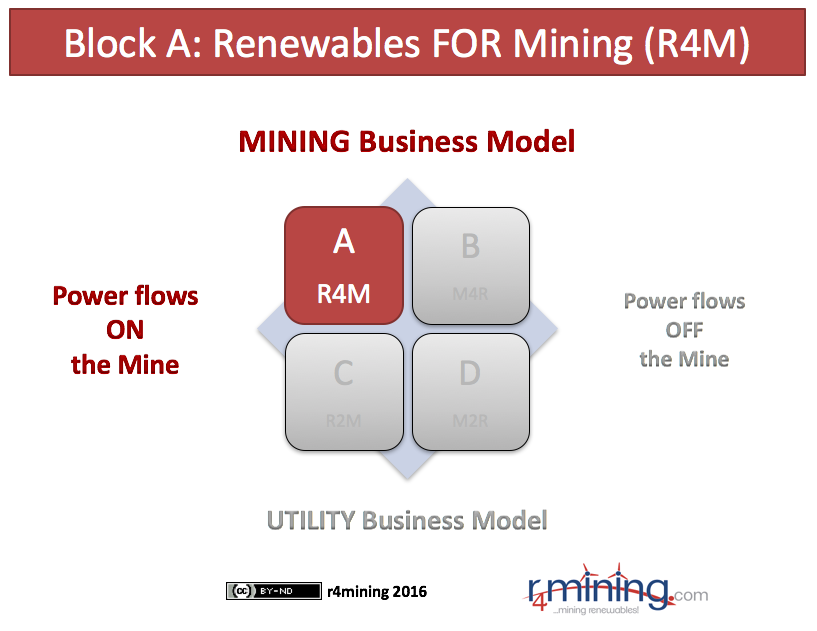 Block A (R4M segment) CASES: 
Answer to Case IV: Lihir mine of Newcrest Gold in Papua New Guinea is a geothermal R4M.
Answer to Case V: are two R4M solar PV installations  for the electricity self consumption in the mine. Other major facilities of the region that we will check later belongs the C block. The present two facilities are Amanecer Solar – CAP minera (Iron) 100 MWp and 270 GWh/y and Pozo Almonte Solar of Collahuasi (Copper) 25.4 MWp and 60 GWh/y) of North of Chile are R4M from solar PV.
Answer to Case VII: the hydraulic facilities of the iron ore Vale in Brazil, Canada and Indonesia belong to R4M Block A, although in the case a considerable percentage of electricity did go out of the mine to share with the society not go to the mine it must be classified in Block D (M2R).
Answer to Case VII: hydroelectric facilities Huanchor and Rio Baños belonging to "Minera Volcán (Peru)» basically belong to the R4M market. However part of their power production is sold to third parties, that portion of electricity would belong to the M2R market. If we know this "third party" electricity percentage we can apply an accurate measurement to the R4M and M2R segments, however if we do not have these data, we may apply all that electricity to the R&M joint market and we don't lose de market focus.
Block B (or M4R Segment): Renewables for Corporate Social Responsibility (CSR)
M4R defining characteristics:
M4R "Mining FOR Renewables"

Towards Mining Business Model
Power Flows OUT of the Mine
Comments: Mining companies in this segment develop renewable energies focused on CSR (social, environmental, labor, institutional). Segment also includes projects for Mine Closure and Reclamation and generally those involved in the Social and Carbon Footprint reduction.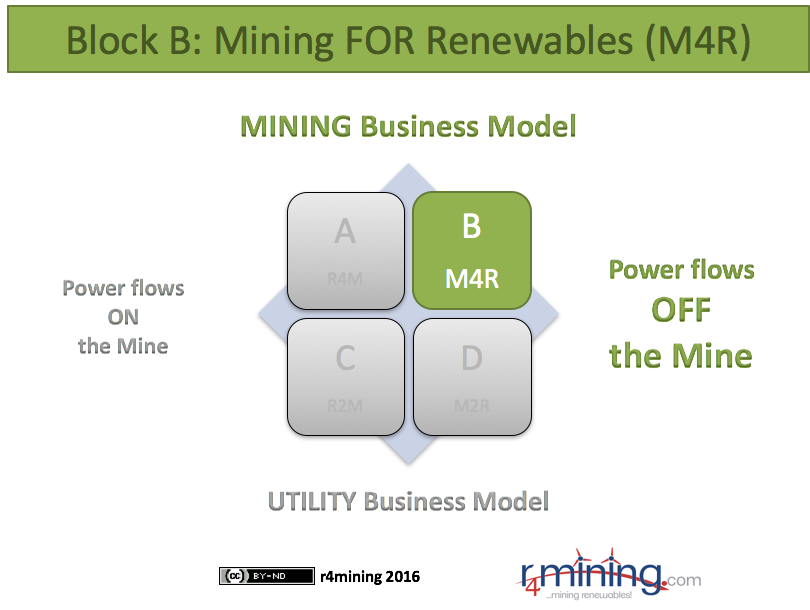 Block B (M4R Segment) CASES:
Answer to Case II: concerning the Andean community of Ollagüe (FreePort McMoRan – Enel Green Power) is a clear example of M4R.

Answer to Case III

: Refers to the closure of Asarco Copper Mine (Grupo Mexico) in Arizona, therefore it belongs to the M4R segment in the Mine Closure modality.

Answer to Case VIII

: Regarding the Kingston hydro storage project (Australia) taking advantage of the mine closure where the two abandoned open pit mines will work as water tanks to generate a storage device is a clear example of M4R project. The collateral PV solar installation in the project should also be considered in this segment M4R in the Mine Closure modality.
Answer to Case IX:  Regarding the Taconite Ridge wind farm, it also belongs to the M4R segment because it is dedicated to reducing the carbon footprint of the Teck Resources mining company as part of its Corporate Environmental Responsibility.

Answer to Case X

: With regard to the case of the magnificent hotel currently under construction in Shanghai, it should be noted that it serves as a closure of a quarry (abandoned building materials mine). This hotel will use the hydraulic energy to supply the hotel with electric power, therefore the case belongs to the segment M4R in the modality of   mine closure by means of hydraulic energy.
Block C (R2M Segment): Renewable Utilities for Mining Consumption
R2M Segment defining characteristics:
 R2M – "Renewables TO Mining"

Towards Utility Business Model
Power flows TO ( -wards) the Mine
Comments: For the measurement of this segment it is necessary to have the data of the electric consumption of the mining sector in each country studied (province, region or zone). Subsequently, this share is applied to the total power production of renewables in the studied region showing up the mining consumption of renewables coming from the grid.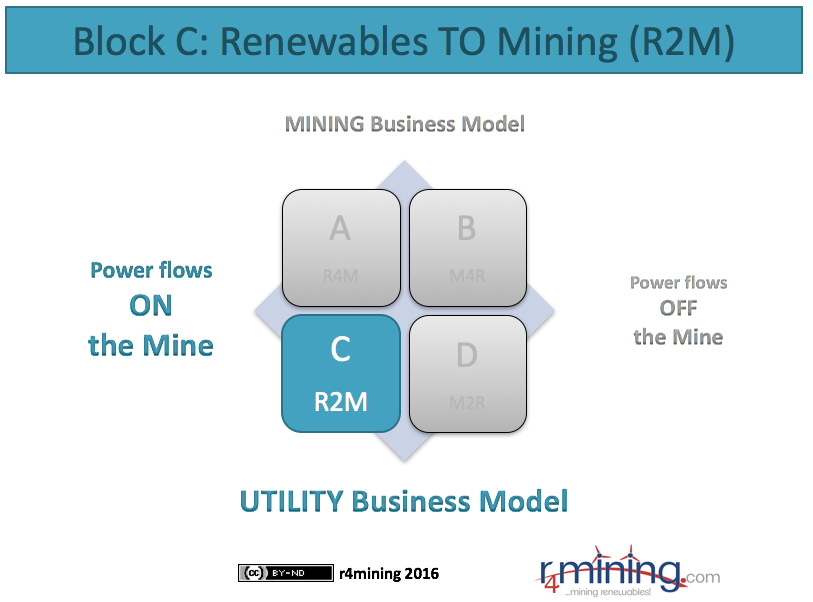 Block C (R2M Segment) CASES: 
Source: Mining Takes Up 60% of Latin America's Solar PV Market, Demand Only to Rise
Answer to Case V:  Eleven of the thirteen large solar PV facilities in northern Chile and southern Peru (September 2016) belong to the R2M segment. According to official data, 85% of electricity in the case of northern Chile (SING) and 42% in the case of southern Peru is consumed by mining.

Chilean solar PV plants involved: Finis Terrae (160 MWp; 400 GWh/y), Pampa Norte (79 MWp; 200 GWh/y), Luz del Norte (71 MWp; 190 GWh/y), Salvador (70 MWp; 198 GWh/y), Lalackama I (60 MWp; 160 GWh/y), Chanares Solar (40 MWp; 94 GWh/y) y San Pedro III Fase I (33,7 MWp – 101,4 GWh/y).
Peruvian solar PV plants involved: Tacna Solar (22 MWp, 43,8 GWh/y), Repartición Solar (22 MWp, 43,8 GWh/y), Majes Solar (22 MWp, 43,8 GWh/y) y Panamericana Solar (21 MWp, 41,8 GWh/y)
Block D (M2R Segment): Mining Power Companies for Renewables
M2R Segment defining characteristics:
M2R: "Mining TO Renewables"

Utility Business Model
Electricity flows OUT of the Mine
Comments: Certain mines, coal mines or bituminous sands are linked to power companies and are developing forward strategic diversification strategies (renewable) for the generation and sale of electricity. Others diversify into two companies, one mining and one energy company (eg Alterra Power and Pan American Silver Corp.). Finally, other mines integrated in the iron and steel industry develop subsidiaries of solar and wind energy. Valid examples are Vale (Brazil), Tata (India) or CAP Minera (Chile).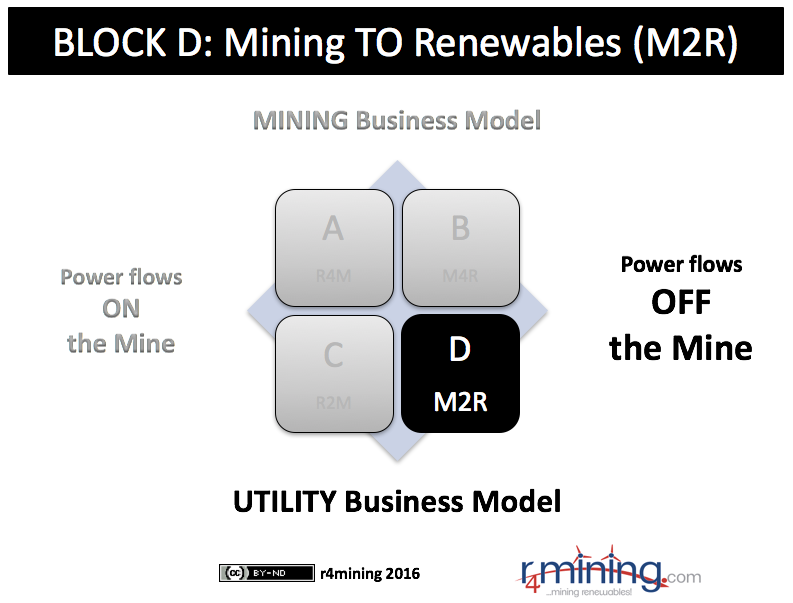 D Block (M2R Segment) CASES:
Answer to CASE I: Alterra Power Corp.'s geothermal plant (Iceland) belongs to the M2R Segment ("not going to any mine", but to an smelter of Rio Tinto)
Answer to CASE VI: This Tamil Nadu case, currently the world record for solar PV with 648 MWp, belongs to the Indian mining and thermal group Adani. Another example of this segment is the 246 MWp solar PV from the Indian group Neyveli Lignite. In the next 5 years the Adani group will develop 1,500 MWp solar PV in Australia and serve as excellent examples of the significant increase of this market in the near future.
The Market for the 2016 Energy & Mines Awards
The target segment for the 2016 Energy and Mines Awards and Rankings is located in blocks A and B (or R4M and M4R segments) of the Business Power Flow Quadrant as illustrated in the following figure: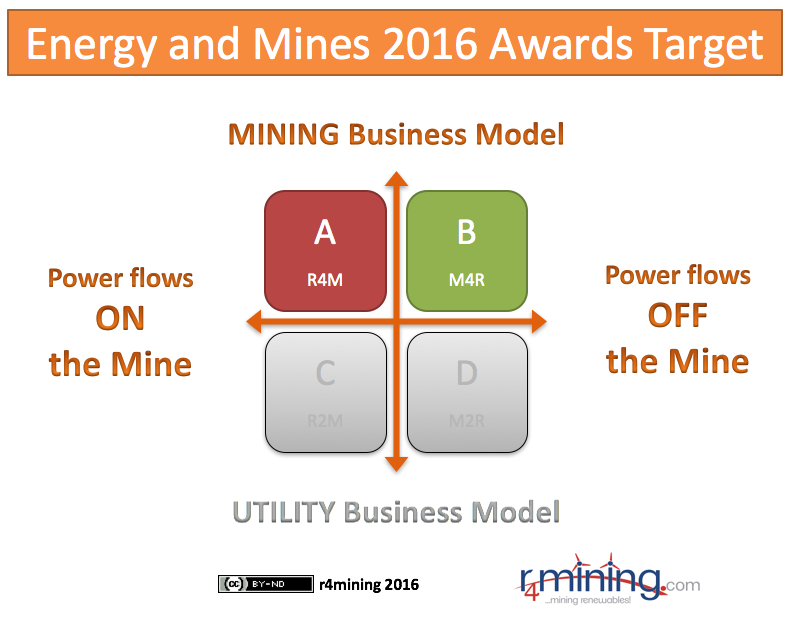 Business Power Flow Quadrant (BPFQ) applied to profesional profiles
The following figure illustrates the potential interest of different professional / business profiles with respect to the BPFQ segments. The number of «X» indicates the intensity of interest on each type of company (professional profile). In this way we can see how mining companies have no special interest in the M4R segment while, on the other hand, they have great interest in the R4M segment. In other way the EPC / IPP developers are most interested on M4R segments. The mining media usually are not focus in the M4R sector.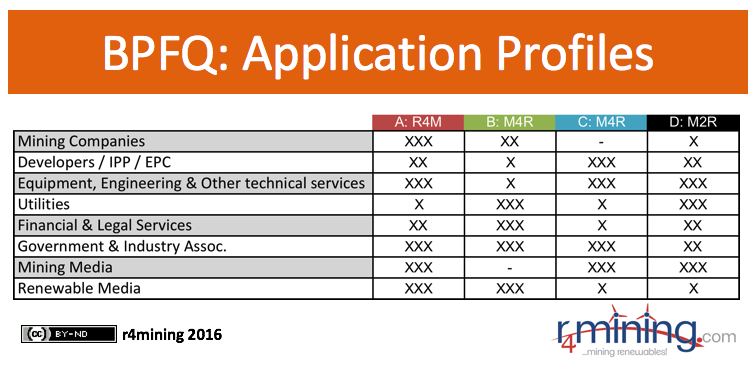 Dynamic segments, evolution and "R&M taxonomic routes»
A renewable energy facility related to a mining company or a mine may undergo changes during its development, be sold, or purchased, changing business models. Take for example the Chilean mining company CAP (holding also as steelmaker) that started 3 years ago in the segment R4M with the installation, world record for the market R4M, of 100 MWp solar PV (Amanecer Solar with SunEdison) and has been evolving the business model towards a diversification creating a division for rooftop PV solar installations. This evolution represents a route from self-consumption (R4M) to the sale of solar electricity (M2R)
This type of business model routes is also known in sectors such as «clouding» with examples such as Apple or Google. These model routes and business model evolutions are of enormous importance to mining companies and renewable developers.
A Final Review: Application to the Peruvian Market: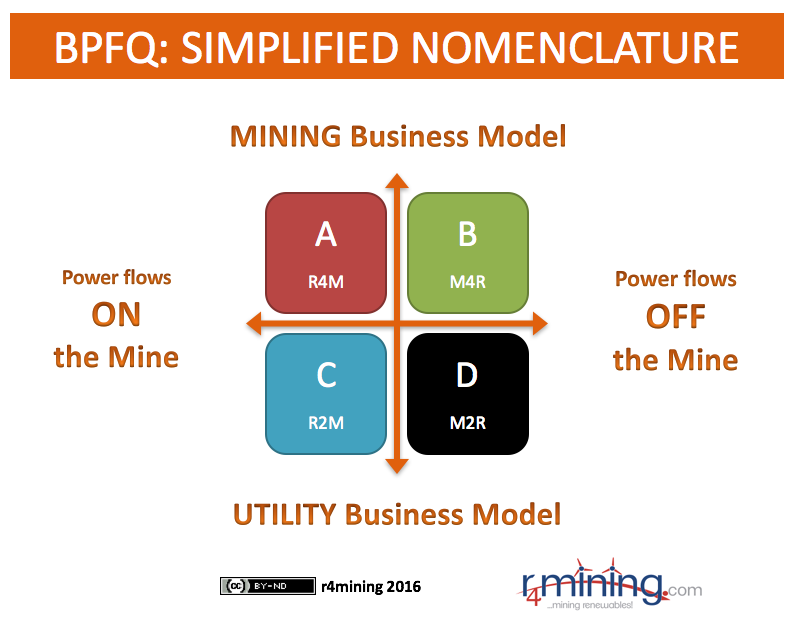 Business Power Flow Quadrant (BPFQ) for Peru:
Engineer Jose Antonio Estela made the peruvian BPFQ presented in the second congress of Renewable Energies and Mining of Peru (November 2016) and  the Environmental Fair Conference of the National Environmental Fund (FONAM, December 2016, Lima). The total R & M market in Peru is 392.2MWp, and there is a curious coincidence that the production capacity coincides in 3 of the 4 segments with 130 MWp (each one). For R4M and M2R segments is a direct measurement, however in the case of R2M segment, the total capacity of 310 MW must be reduced applying the 42% the net mining capacity ratio to final 130.2 MWp. The M4R segment is highly atomized and it is more difficult to determine, currently is still under study.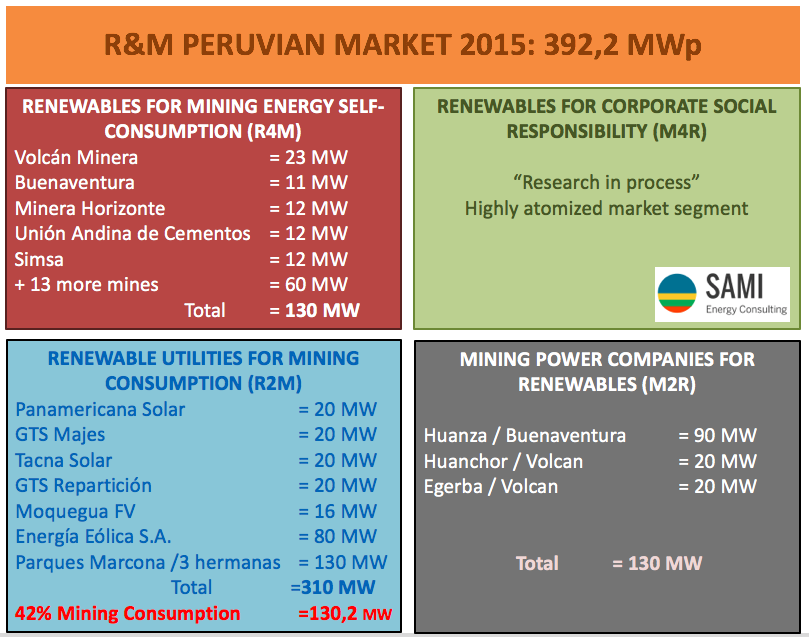 Visit and become a member of LinkedIn Group: